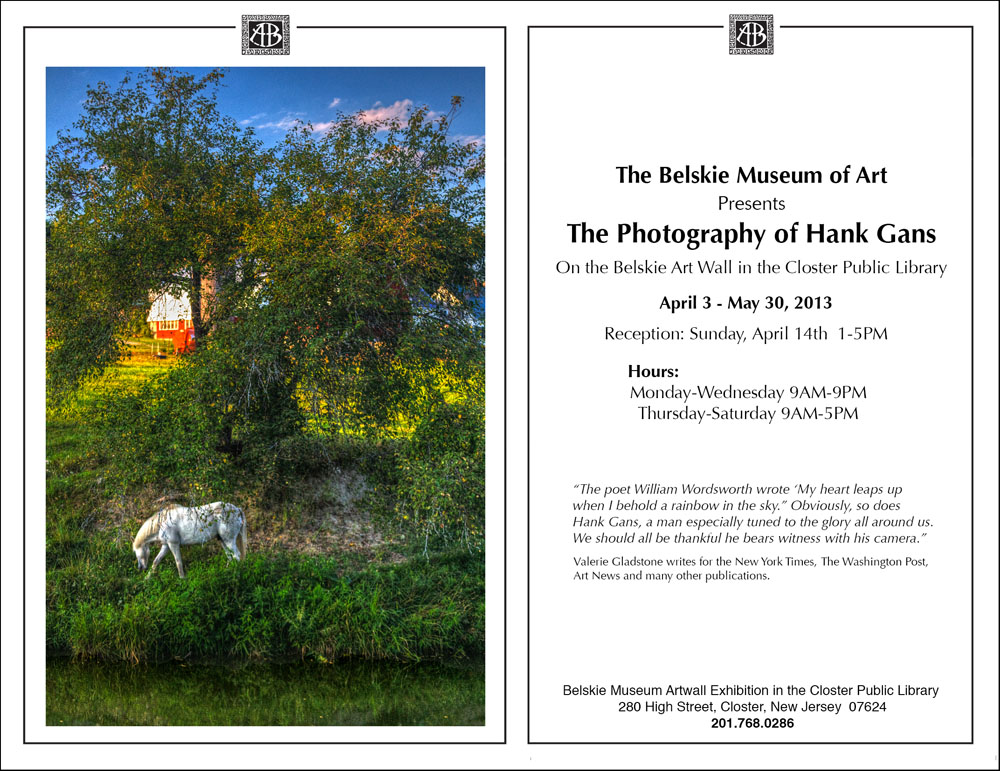 12/21/10
From the Center for Fine Art Photography blog: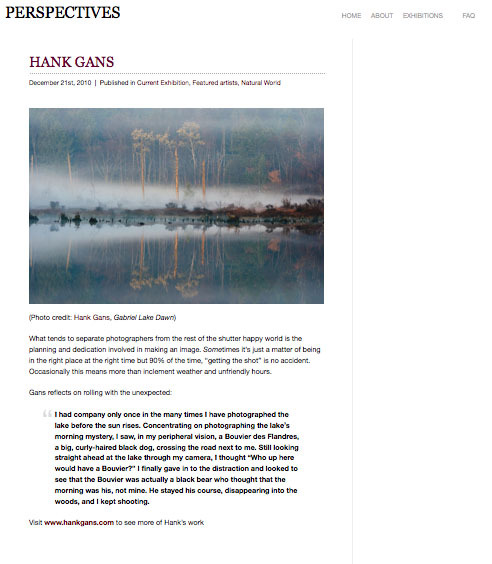 ---
11/24/10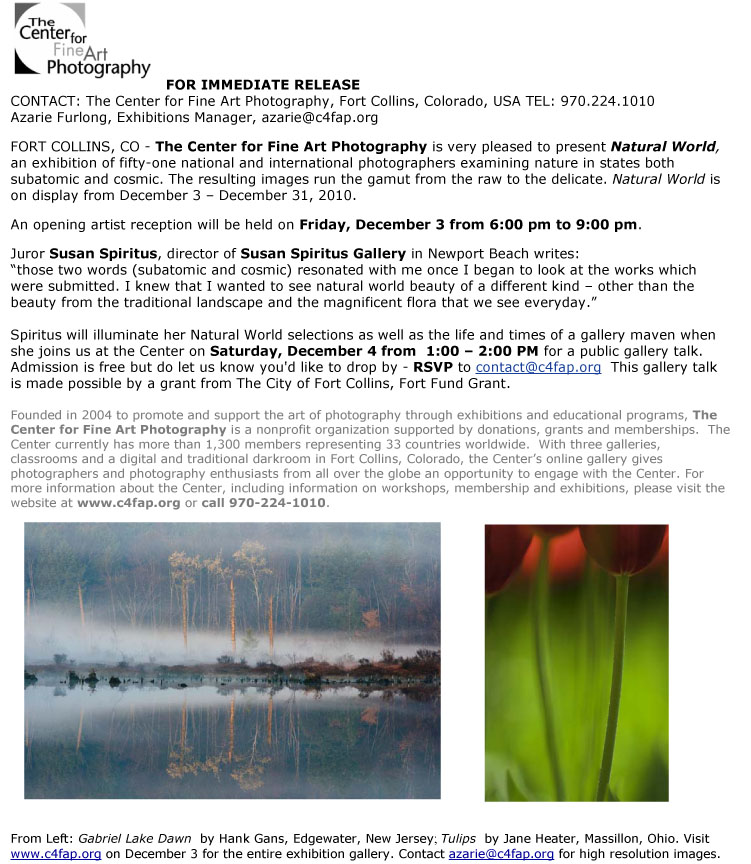 ---
12/12/2009
---
BERGEN COUNTY, NEW JERSEY HOSTS SOLO PHOTOGRAPHY EXHIBIT BY HANK GANS

10/30/2009

Contact: Sheri Hensley
201-336-7349
Bergen County Executive Dennis McNerney and the Board of Chosen Freeholders invite the public to attend an art opening reception with music and refreshments on Thursday November 12, from 6 pm -7:30 pm in the lobby of County Administration building located at One Bergen County Plaza in Hackensack, New Jersey. On display will be will be the photographic work of Hank Gans, who won first place in the Bergen County 2009 Henry Hudson 400 Photography Exhibit held in September.

Landscapes by Hank Gans frequently appear in gallery exhibitions and are in many private and corporate collections throughout the world. His images are also published as fine art lithographs and distributed internationally by Wizard and Genius of Zurich, Switzerland. Two of his Manhattan photos, "Manhattan Sunrise After A Morning Storm" and "Upper West Side Foggy Morning" (both included in this exhibit) were recently acquired by the Musée de l'Elysée, the international museum of photography in Lausanne, Switzerland for their permanent collection. Photographs by Hank Gans may be viewed online at www.hankgans.com.

During the Hank Gans exhibit, music will be provided by Fair Lawn's own classical guitarist, Keith Fanella. Keith is a graduate from Manhattan School of Music and studied under noted guitarists, Nicholas Goluses, Kaare Norge, Mark Delprioria and Ben Verdery. Mr. Fanella is an active composer and arranger. He has recorded and premiered solo works for guitar by composer Matthew Halper. Current projects include a CD recoding of his arrangements of international carols and a compilation of transcriptions for two guitars by composers Schumann and Mendelssohn. Keith has taught at various regional music schools and maintains an active private studio.

The exhibit will be on display in the lobby of the County Administration Building from November 5 - 30 and may be viewed on weekdays from 9 am to 5pm. To attend the opening reception, please contact the Division of Cultural & Historic Affairs at 201-336-7292 or email glucente@co.bergen.nj.us.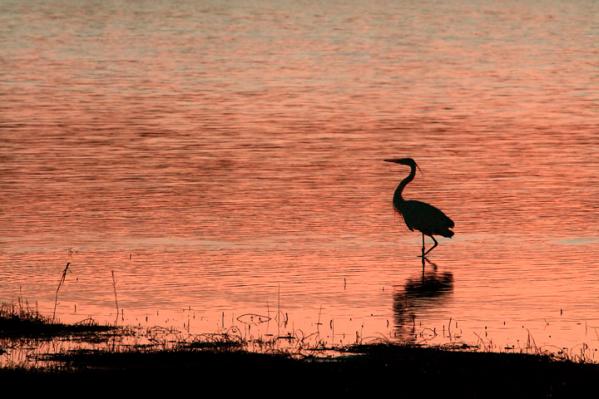 ---
10/28/09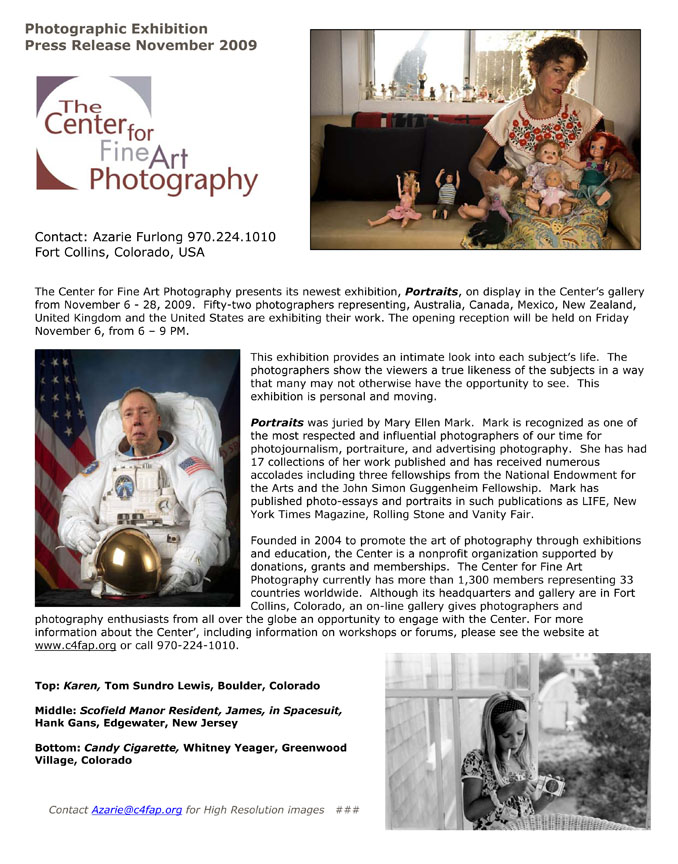 ---
10/28/09
The Manor Resident, James, as an Astronaut by Hank Gans is selected for the Portraits exhibition at the Center for Fine Art Photography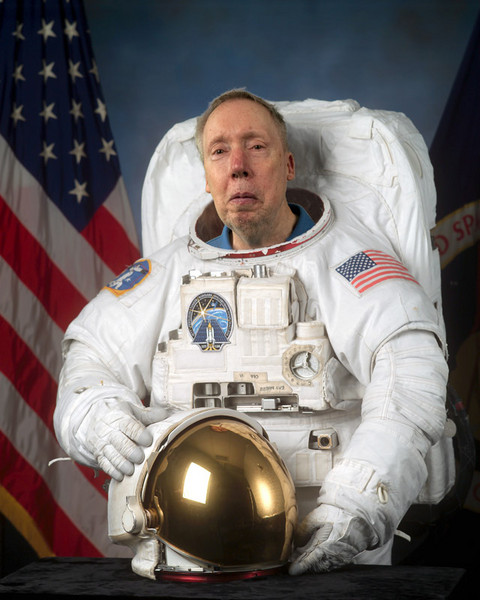 The Center for Fine Art Photography is pleased to announce the juror's selections for the Portraits exhibition. Congratulations to the 52 artists from seven countries whose photographs were selected.
The images were selected by juror, Mary Ellen Mark. Mary Ellen Mark is a photographer known for her photojournalism, portraiture, and advertising photography. She has had 17 collections of her work published and has exhibited at galleries and museums worldwide. She has received numerous accolades, including three fellowships from the National Endowment for the Arts and the John Simon Guggenheim Fellowship. Additionally, Mark was awarded the Photographer of the Year Award from the Friends of Photography, three Robert F. Kennedy Journalism Awards, Matrix Award for outstanding woman in the field of film/photography, World Press Award for Outstanding Body of Work Throughout the Years, Victor Hasselblad Cover Award, and numerous other prestigious awards. Mark has published photo-essays and portraits in such publications as LIFE, New York Times Magazine, Rolling Stone, and Vanity Fair. For over four decades, she has traveled extensively to make pictures that reflect a high degree of humanism. Today, she is recognized as one of our most respected and influential photographers.
The photograph of "The Manor Resident, James, as an Astronaut" by Hank Gans was chosen by Ms. Mark to be included in the exhibition.
The Portraits will be on display in the Center's online gallery and physical gallery from November 6 - November 28, 2009. The public and artists' reception will be held in Fort Collins on November 6, 2009 from 6-9pm.
---
09/23/2009
Hank Gans Included in the 2010 Panobook
It was announced today that two Manhattan panoramas by Hank Gans will be included in the 2010 Panobook.
The Panobook is an annual compendium, published in Paris, France, of the most beautiful panoramic images produced by a community of professional and amateur photographers from around the world. Stunning sites, unusual places, artistic montages and breathtaking landscapes have inspired the 123 contributors of the 2010 book.
638 photographers submitted 1392 photographs this year. The selection of the images to be included in the Panobook was made by a jury of three renowned panoramic photographers.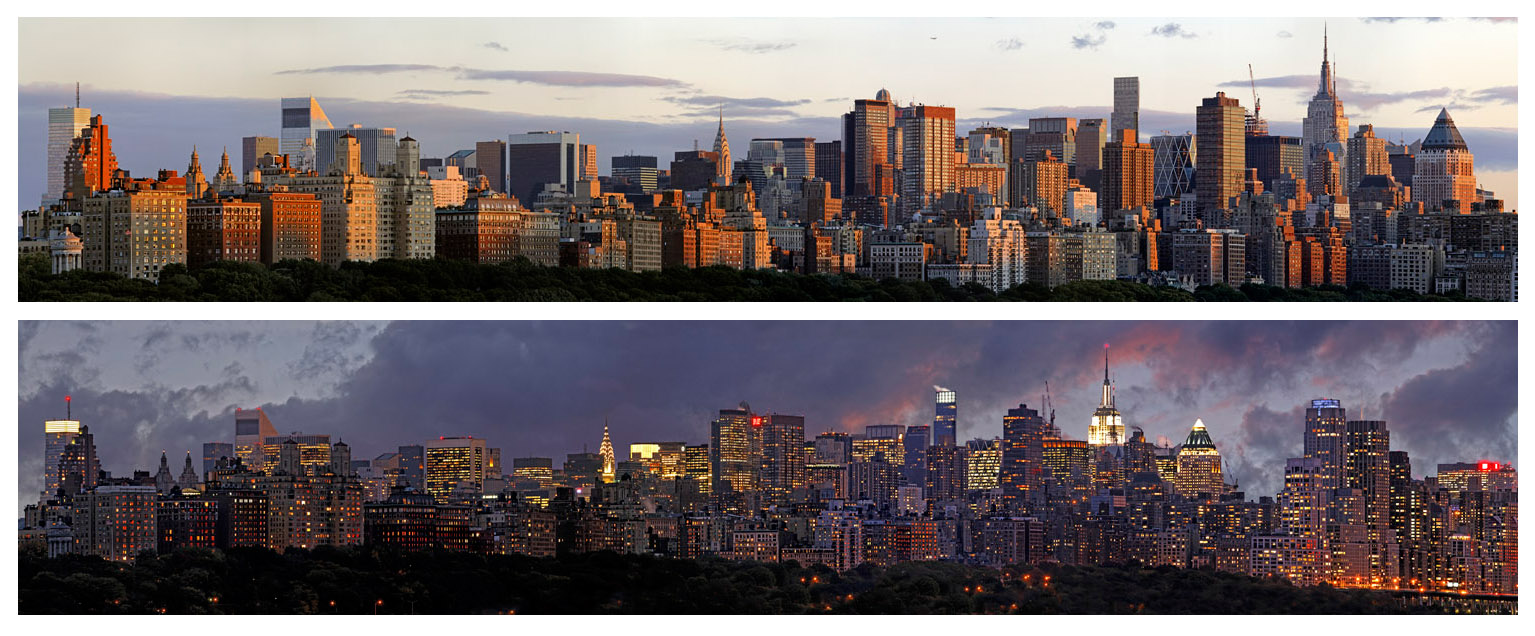 ---
FOR IMMEDIATE RELEASE:
2009 International Photography Awards Announces Winners of the Competition
Hank Gans received seven awards in the 2009 International Photography Awards Competition for his Manhattan citycapes and panoramas, International Photography Awards (IPA) announced today.

ABOUT HANK GANS:
Hank Gans became a successful commercial photographer in 1975, working for high profile corporate clients such as A.T&T., Ciba Geigy, Kodak, Merrill Lynch, Johnson & Johnson, and Barclay's and First Union Banks . Over the years he has won many New York and Chicago Art Directors Club awards and his work has been featured several times in PHOTOGRAPHIS, the Swiss annual of the "world's best advertising and editorial photography". In the seventies and eighties Hank's highly illustrative photographs graced album covers for such musical giants as Sarah Vaughn, Morgana King, Michel Legrand, and Grover Washington, Jr. Encouraged by his mentor, the great color photographer, Ernst Haas, who had declared Hank's personal work "perfection", Hank left Manhattan in 1985 to photograph the American southwest. He lived with the Hopi Tribe at Keams Canyon, Arizona, becoming the first "Anglo" photographer to be permitted to live with the tribe since it banned photography on the reservation in 1911. Hank chose this locality because the Hopi Mesas are the center of the Four Corners area which was the focal point of his photography. Hank became a member of the Hopi community, teaching photography at Northland Pioneer College on the reservation. Earning the trust of the tribe, Hank was commissioned by many Hopi tribal members to do their portraits. After three years in the mile high desert, Hank left the Hopi mesas to settle in coastal Maine where he concentrated on fine art photography, publishing his large Maine Coastline Portfolio lithographs and having a one man show at the Union Hall Gallery at the Maine Photographic Workshops. In 1993 Hank was the still photographer for a feature film being shot on location on Cape Cod. Solving a logistic problem for a producer brought about his becoming production manager of the feature and, eventually, one of its producers. The film won several international film festivals in 1994. This led to additional production work for other films in Hollywood, California. Hank's total involvement in film production during this time drew him away from photography as a profession and an art. In 2000 his love for still photography and marriage to his wife, Nicole, brought Hank back to the New York area where he reestablished himself as a commercial and fine art photographer and continues his exploration of the world through his color photography. He currently lives on the western shore of the Hudson River in Edgewater, New Jersey. In 2005 Hank's photography was discovered by the Swiss publisher, Wizard & Genius who have published 28 of his images as high quality lithographic posters, distributed internationally through venues such as ART.COM and ALLPOSTERS.COM. In 2007 Hank's work became part of the permanent collection of the musée de l'Elysée, the international museum of photography in Lausanne, Switzerland.
ABOUT IPA:
The 2009 International Photography Awards received nearly 18,000 submissions from 104 countries across the globe. IPA is a sister-effort of the Lucie Foundation, where the top three winners are announced at the annual Lucie Awards gala ceremony. The Foundation's mission is to honor master photographers, to discover new and emerging talent and to promote the appreciation of photography. Since 2003, IPA has had the privilege and opportunity to acknowledge and recognize contemporary photographer's accomplishments in this specialized and highly visible competition. Visit www.photoawards.com
Contact:
Hank Gans:
hank@hankgans.com
http://www.hankgans.com
IPA Contact
Sarah Cho
Competition Director
IPA | Lucie Awards
sarah@photoawards.com
310-659-0122
---
9/9/2009

Contact: Sheri Hensley
201-336-7349

(HACKENSACK, New Jersey) Bergen County Executive Dennis McNerney and the Board of Chosen Freeholders welcomes the public to attend the Bergen County Henry Hudson 400 Photography Exhibit opening reception on Wednesday, September 16th, 2009 from 6-7:30 pm in the lobby of One Bergen County Plaza, the County Administration Building, Hackensack, NJ.

Bergen County resident exhibitors submitted one photo each relating to the Bergen County region of the Hudson River for this juried exhibition.

Hank Gans of Edgewater won first-prize with his photograph of the George Washington Bridge and Manhattan in the morning mist. He will be awarded a solo photography exhibition early next year in the Lobby of One Bergen County Plaza.

This photograph has also a become one of the top selling images of the George Washington Bridge, worldwide, as a fine art poster published by Wizard and Genius of Switzerland.

The judge for the juried exhibition was Jim DelGuidice; a photographer, teacher, historic preservationist and founder of the Specialized PhotoGraphic Design Company, as well as adjunct assistant professor of photography at the County College of Morris. His photographs are featured in The Architecture of Bergen County, New Jersey, The Colonial Period to the Twentieth Century, by T. Robins Brown and Schuyler Warmflash and Building By The Book, Pattern-Book Architecture in New Jersey, by Robert P. Guter & Janet W. Foster, both of which are published by Rutgers University Press.

The accompanying lobby exhibition included large, colorful interpretive panels showing the route of Hudson's 1609 voyage and delightful excerpts from the log of one of Henry Hudson's crew, Robert Juet. The log entries described the details of Hudson's sail on the river and the names that the Hudson River has been called over the past 400 years.

"I encourage our residents to participate all events planned by Bergen County to commemorate the 400th anniversary of Henry Hudson's voyage of exploration in 1609," said Bergen County Executive, Dennis McNerney. "By celebrating this historic occasion, we can learn even more about this unique resource."
---
February 11, 2009
The photograph, Gabriel Lake Fall Morning, by Hank Gans, was chosen by gallery attendees at the Center for Fine Art Photography in Fort Collins, Colorado as their favorite image, winning the Gallery Visitors Choice Award. The photograph was one of fifty photographs exhibited in the group show "Art in Nature".

Gabriel Lake Fall Morning